Welcome and thank you for your interest in helping Tawas City grow! This page is structured to put important resources for development projects in one convenient location. We hope you find this information helpful to bring your idea from a concept to reality. Feel free to reach out to us if we can help you along the way.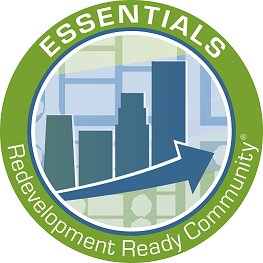 Tawas City achieved the Essentials designation as a Redevelopment Ready Community on March 9, 2023.
Michigan Economic Development Corporation
Michigan Economic Development Corporation Award Letter
Once a concept is developed, the City encourages a Pre-Application conference to help answer questions and assure the idea fits with planning and zoning. Please review the Conceptual Review Plan to see if you are ready for a Conceptual Review, then contact City Hall (989) 362-8688 or email us.
The City is the first point of contact for development projects. We will work with you to navigate zoning and a variety of other City related items such as water and sewer utilities. Iosco County is the body that issues building permits in the City. You are encouraged to reach out to them early on in your planning as well. The County Building Department can be reached at (989) 362 – 6511 or go to there web page at https://iosco.net/building-department/
Boards and Commissions Meeting Schedules
Special meetings of the Planning Commission must be made by written request and accompanied with the required fee. A link to the fee schedule can be found in the development resources section of this guide. Requests for Special meetings shall be made at City Hall. Note that special meetings require notice of at least (48) hours to members of the commission.
Development Review Process  explains how site plans are approved by the Zoning Administrator or by the Planning Commission. The Internal Review Process  addresses the key steps of the application from submittal to issuing of the permit, identifies who reviews applications, and identifies approval standards.  Certain applications are required to be out sourced for review. Please review the Procedures Related to Zoning Applications.
Development Resources
Tawas City Zoning Ordinance                                Tawas City Zoning Map 
Public Participation Plan                                         Training Strategy
Schedule of City Fees (Effective Sept. 1 2023)
Applications for board appointments, Planning Commission Applications, Right of Way Permits, Sign Permits, Water & Sewer Connections, Sidewalk and Ditches, Zoning Applications and Zoning Board of Appeals are found on our Forms and Applications Page
Tawas City Capital Improvement Plans
–Bridge Improvement Plan 2023
–Sewer Capital Improvement Plan 2023
–Streets Capital Improvement Plan 2023
–Wastewater Capital Improvement Plan 2023
–Water Capital Improvement Plan 2023
Other Useful Documents
Civil Infraction Ordinance
Tawas City 2019-2023 Master Plan 
Tawas City 2023-2027 Parks and Recreation Plan
Tawas City Development Plan and Tax Increment Financing Plan (DDA)
Tawas City 2022-2023 Adopted Budget
Tawas City 2023-2024 Adopted Budget
Annual Planning Commission Report 2021-2022