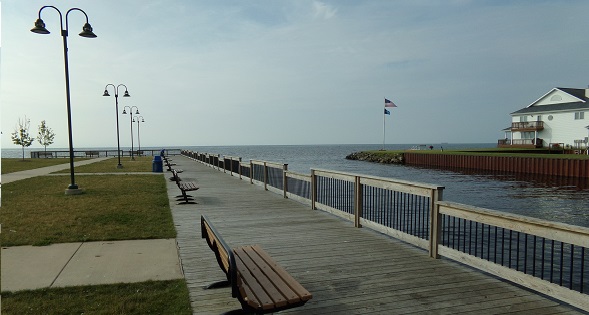 The 13-acre Gateway Park, 815 W. Lake St., was constructed in 1982 with the purpose of stabilizing, beautifying and preserving Tawas River mouth property for public access and multi-recreational use. It was named Gateway Park because it is virtually the first major regional exposure to the Lake Huron coastal system. Visitors can enjoy picnicking or fishing off the pier at the mouth of the river. Indoor restrooms and parking are available.
A 300-foot lighted and ADA-compatible fishing pier  and a new boat launch which accommodates two boats up to 28 feet long was added to the park in 2010.
The 3,200 sq ft pavilion was built in 2014 for the Northeast Michigan Regional Farm Market to use on Saturdays from 8 am to 1 pm.
A portion of the park along the lake shore was designated in 2015 for dogs to enjoy the beach.
New restrooms were constructed in 2017 the park.
The park pavilion can be rented by clicking on Park Reservation Form.
Park Features:
Off-street parking
Indoor restrooms
Benches/seating area
Pavilion
Picnic tables
Barbecue grills
Lake swimming
Shore/pier fishing
Shoreline trail/bike path
Playground equipment
"This program receives Federal funds from the National Park Service.  Regulations of the U.S. Department of Interior strictly prohibit unlawful discrimination in departmental federally-assisted programs on the basis of race, color, national origin, age and handicap?"
Please send complaints to:
Director- Equal Opportunity Programs
National Park Service
US Department of the Interior
PO BOX 37127
Washington DC 20013-7127
815 W. Lake St., Tawas City, MI 48763